W2UAS
September 1916 - April 2004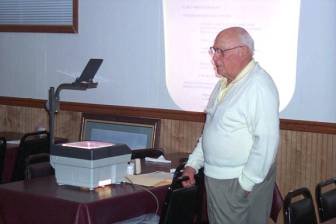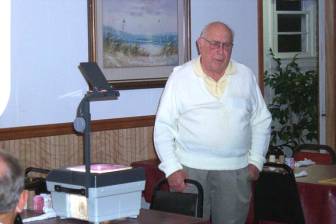 Ed Goldberg's original license call was W5BFY, issued in 1932, QTH Dallas, Texas. An interim call was W3IZH issued when he began his 41 year career at RCA in Camden, NJ, and had moved to Haddon Heights, NJ in 1940. W3IZH was reissued as W2UAS when NJ was redesignated in the W2 Call district. He held a Class A license from 1933 until after WWII when Class A, which enjoyed full privileges, was replaced by the present Advanced Class, and the extra class was reintroduced.
NEW BERN click here for more info on Ed
---
Several years before he died, Ed told me that he had a transmitter that he had built many years ago, and knowing my interest in old tube-type gear, he said he thought I might like to have it. I heartily agreed, but we never spoke of it again. He must have mentioned it to his wife, as she made contact with me recently, a year after his death, and said she had found some old radio gear, and knew that Ed had offered it to me. She said, "bring help, it's heavy." I was thrilled at the news, and went over to her house with another local ham to see just what she had, and to remove some antennas and coax for her.
The first item that she took us to, up in the attic, was an RCA AR-77 receiver. I could see that one of the front panel controls had add-on labels which read "USB" and "LSB", so I knew that Ed had used the receiver, at least somewhat, long after it had been built (1940-42), and perhaps he had made some modifications. Mrs. Goldberg then said she had some tubes, and another wooden box in the garage. I carried the receiver downstairs, and we checked the garage. We found 2 wooden packing crates made long ago, to hold his old transmitter and it's power supply.
The next day I opened the crates, inspect the contents, and was surprised to find all that was needed to get a CW transmitter capable of about 100 watts on the air on 80, 40, and 20 meters. Several crystals were included, coil sets for each band, and the proper tubes, all in separate boxes. I took some "as found" pix, and then cleaned up the transmitter chassis to ready it for pix with tubes and coils in place. It uses a 6L6 oscillator, 807 buffer/multiplier, and a 35T final tube. It appears after a quick search of old publications, that it may have been built from a combination of several articles in the 1937 edition of the Frank C. Jones Radio Handbook, a classic work.
"before" pix, showing both the transmitter and power supply, plus the packing crates they had been in for many years.
pix after cleaning and installation of tubes and coils. Some further inspection and minimal repairs will be necessary before it is ready to get on the air. The power supply will be a somewhat larger project, as much of the insulation on wiring is fragile, and it puts out over 1000 volts DC. The AR-77 receiver will also be a larger project. Today is May 25, 2005.
--------
update, Feb. 13, 2006
I decided last week that I should get this rig on the air for the "Classic Exchange" QSO Party 2/12. Spent a day or 3 inspecting, tracing out a diagram, etc., and replaced some old paper bypass caps & one electrolytic. Ed had labeled almost all the terminals on the back of the transmitter, and a little on the power supply. I decided that I wouldn't spend time on the p.s., it was pretty dirty inside, and with 1000vDC output per the label, I figured it'd be quicker & safer to do with something else. I ended up using a Heath regulated, variable, supply for the low voltage and bias, so got the oscillator or buffer stages checked out with that. Then Sun. AM I dragged out an HV supply I'd built almost 30 yrs ago. It was probably 20 yrs since I had used it, but it checked out OK so I powered it up on a variac for safety. It would put out a bit over 2000v, so when I finally hooked it up Sun. after supper, I kept the variac in-line and set it up for about 1400v.
To make a long story temporarily shorter, I got it on the air and made 2 QSO's on 3536kc, first with K2MD, John, in NJ, with a 599 report, and then with Marc, N4DR, in Rockville, MD. Marc gave me a 569, and said it sounded very clean and stable. He and I chatted almost 25 minutes, he wanted to know some of the history of the rig. I filled him in some, and told him to send me an email & I'd give him the link to this page, which he did.

Heath power supply behind transmitter, cable between bug & rig goes to HV supply on the floor.
73 for now,
Al, W8UT
-----------
from The New Bern Sun Journal, 4/9/04
NEW BERN -- Edwin Allen Goldberg passed away Tuesday night, April 6, 2004, at Craven Regional Medical Center.
He was born in Dallas, Texas, on September 13, 1916 and earned both his bachelor's and master's degrees from the University of Texas. He lived in Princeton, N.J., and moved to New Bern, NC, after retiring from RCA.
Mr. Goldberg worked for RCA for more than 40 years. Among his many accomplishments, he earned 28 patents, was instrumental in the development of color television and analog computer design, and was Project Manager for Tiros I, the first weather satellite, and Engineering Manager of Communications Satellite Projects.
While living in Fairfield Harbour in New Bern he was been an active member of the New Bern Amateur Radio Club and the Computer Club.
The memorial service will be held at Centenary Methodist Church on Monday, April 12, at 2 p.m. in the afternoon.
Mr. Goldberg is survived by his wife of over 61 years, Katherine; his children, Katherine Harris of Richmond, Va., and Martin Goldberg of Lawrenceville, N.J. He is also survived by four grandchildren, Heather Wright of Richmond, Ky., Tiffany Harris of Urbana, Ill., Steven Goldberg of Lawrenceville, N.J., and Andrew Goldberg of Lawrenceville, N.J. He is also survived by his great granddaughter, Haley Wright of Richmond, Ky.
In lieu of flowers, the family gratefully suggests contributions to the Bridgeton Rescue Squad, P.O. Box 602, Bridgeton, NC 28519 or to the organ fund of the Centenary Methodist Church, P.O. Box 1388, New Bern, NC 28563.
-----------------------
Radio (home page)
comments to anchor@ec.rr.com
And remember: "They don't make tubes nowadays like they used to..."